By Jerry Trubman: Owner and Founder
As I'm sure you know by now, we do things a little differently here at The Protocol. At the beginning of every year, most gyms are having big promotions in an attempt to lure the New Year's crowd. For us, that just isn't our style.
Our facility is smaller than most people think: About 2000 square feet and less than 100 total students… and these folks are serious about their training! I simply can't afford to flood my gym with a group of people every January who will be gone by February, so around here we let the New Year's crowd pass over us. This year, we had a total of two sign-ups… and one has already quit (if it was you and you're reading this, I hope you find what you're looking for. No hard feelings).
With that said, every January we do participate in little challenges that help our people get the year off to a great start. In years past, we've done the 10,000 swing challenge (brutal) and other stuff, but this year we chose a rowing challenge. The goals were simple and attainable by virtually everyone in the gym: 25,000 meters for beginners, and 50,000 meters for advanced rowers.
I'd like to take this opportunity to recognize a few people from this challenge: Our top male was Joseph Bodnar who put down 75,017 meters and our top female was Dr. Rachel Novak with 59,721. As a side note, Dr. Rachel also threw down 200,016 meters between Thanksgiving and Christmas during the Concept 2 Holiday Challenge. Beastly…
There is one more lady I'd like to recognize in this challenge… our student Annie Johnson logged an impressive 50,786 meters… at the tender young age of 71! Wow! Annie is on track to set some rowing records in her age group in 2018, so stay tuned for updates on that.
We also like to do what Mark Reifkind calls, "Walking the talk." Both of our instructors, Marie and Matt, also finished the challenge. On a personal note, one of my goals was to row a half marathon at the end of the challenge, and on January 30th I finished one in just under 1 hour and 40 minutes.
Some may wonder, if we're supposedly 'so serious', why do we need to participate in these silly little January Challenges? Several reasons: First off, it's fun. I hate to quote one of those goofy memes on the internet, but exercise should be a celebration of what your body can do, not a punishment for what you ate. It feels awesome to push yourself and accomplish something bigger, no matter how advanced you are as an athlete.
Second, participating in a challenge is a great way to build up a skill that you may be lacking in. Dan John's 40 Day Challenge is a great example of this. His summary is simple, "I tried it. I picked five exercises I needed to do and did them. Old PR's fell, and yes, it seemed easy."
One of my worst-kept secrets to keeping my powerlifting athletes healthy is having a seasonality to our training. We cycle lifts throughout the year, and periodically take a complete break from the 'big 3'. We also take 6-8 week cycles of pure conditioning work (usually after a meet) with kettlebells, rowing, sleds, and bodyweight exercises. These restorative cycles allow the lifter's bodies to recover, and when it's time to get back under the bar, they're ready.
If all they ever did was grind on bars all year around, they would become bored… but also broken. Constant heavy barbell training beats you up. But let's also be fair; too much of anything beats you up too. Just ask any distance runner who has spent too many years logging miles and never did any kind of other training…
Maybe it's time for you to take on a challenge? Pick something that needs work, plan the work, and work the plan.
Until next time,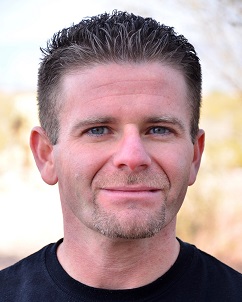 Jerry Trubman is a coach, clinician, author, blogger, and powerlifting state champion. With over two decades of of lifting experience, he has devoted himself to seeking out better answers, and distilling them into practical programs that produce great results. Jerry has coached "Team Protocol" to 4 National Powerlifting Championships in the 100% Raw federation. He writes the internationally-read blog, "The Healthy Addiction" and lives in Tucson, Arizona with his wife Marie and dog Sadie. To subscribe to his blog, click here.