Greetings!
We come to you this month with a whole lot of awesomeness to report! For starters, this month The Protocol celebrates its 6-year anniversary. It's hard to imagine what life was like 6 short years ago; I was working at a gym and scared out of mind to take this leap, but somehow found the courage to do it. We started out with some humble beginnings… on a basketball court. When the weather started getting cold, we were fortunate enough to meet David Painter who owned 'Springs', a gymnastics facility nearby. He offered to let us teach classes there for a reasonable cost early in the morning before all the kids got in. Those classes on Tuesday and Thursday mornings are still being offered to this day. Within two years we grew big enough to have our own facility. We have since outgrown that facility… twice! Today The Protocol is the biggest and best it has ever been, and we train out of an incredible facility that, frankly, I never imagined we would ever grow big enough to have.
I say it every year, and I will say it again this year: Group fitness tends to be a revolving door… clients coming in while others go out, and small fitness studios often have a bad habit of closing down. I never take for granted the fact that we have this loyal of a following.
If you are a student, workshop/clinic/certification attendee, or just read this blog and have told someone about it, I thank you from the bottom of my heart. Your support has allowed me to take something I love and make a career out of it.
Secondly, as some of you know, I have been teaching workshops and assisting at kettlebell certifications for an organization based out of the U.K. called Strength Matters. At our last certification in Seattle, Master Instructor Mark Reifkind presented me with the offer to become one of their Senior Instructors, and I gladly and humbly accepted!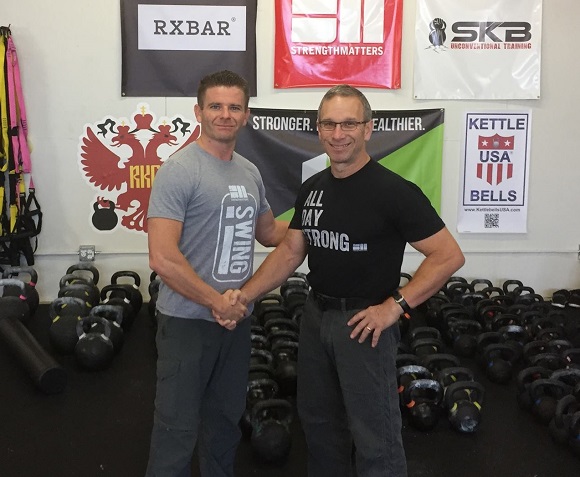 For my non-industry friends, this is a title that is held by only 4 other people in the world. This is not only an incredible opportunity to grow professionally, but also an opportunity to serve a community of like-minded professionals to expand a system of great training and intelligent programming. In a world of 'push through the pain' and 'one more curl, bro', we need fitness professionals who can provide better answers. The message of intelligent training is being terribly under-delivered (particularly in the US), and I am very excited to be part of a team that is doing something about that. If you are interested in learning more about Strength Matters, please visit realstrengthmatters.com
There are many fitness organizations similar to SM, and some have asked why I chose to work with this one. The answer is simple: Aligned vision. When I started The Protocol, I had a pretty clear picture of where I wanted to take things, and I had certainly seen it poorly done in the past. Some of the other programs out there were just plain weak; people were not getting the results they were looking for. Others were too militaristic; trainers shouting at their clients and beating them to a pulp every session. This often leads to (best case) burnout and giving up, or (worst case) injury and failure. Some systems are very complicated for the sake of being complicated, and require time commitments that many busy professionals just don't have.
Believe it or not, the education side of the fitness industry is not much different: Many products are just terrible and ineffective, some programs are unnecessarily brutal to get through, and others are more concerned with selling you stuff than serving your needs.
I discovered Strength Matters by attending one of their Summits, a three-day event that brought together the who's who of fitness for an education-packed weekend like I had never experienced before. When I found out they were going to start offering certifications, and attending one of these Summits every two years goes towards re-certification hours, I was sold. I would have gone to one of these if it didn't count towards continuing ed! When I got to meet the CEO James Breese during that first weekend, I realized very quickly the fact that we were on the same page of where fitness needs to go to be successful. We built both of our companies by putting the customer first. As I continued following them, I knew this was a company I wanted to be a part of, so to receive the invitation to join this leadership team is a tremendous honor.
Along with this new instructor position comes some great benefits for my friends in southern Arizona and surrounding areas. We will be bringing more kettlebell workshops and, of course, the Strength Matters SMK Level 1 Kettlebell Certification Course to sunny Tucson at The Protocol! The certification is scheduled for May 19th and we are also working on bringing Mark Reifkind out for his Body Maintenance Workshop. Please stay tuned for early-bird specials. And remember, if you subscribe to the Strength Matters Magazine and join our community as a Platinum Member, on top of the early-bird deals you also get 20% off any course or certification!
If you are part of the Strength Matters community and you are reading this blog for the first time… thank you! I hope you find the information useful and relevant to your training and your business.
Until next time,
Jerry Trubman – Senior SMK Instructor
Jerry is the owner and founder of The Protocol Strength & Conditioning, a fitness facility and coaching program specializing in teaching people how to move better and become stronger. With over a decade of experience, Jerry has devoted himself to seeking out better answers, then distilling those answers into practical programs that produce great results. He provides workshops, clinics, and kettlebell certifications all over the world through the UK-based company, Strength Matters, and writes "The Healthy Addiction" blog which has thousands of readers world-wide. For more information, please visit theprotocolsc.com