Hello friends,
As we slowly start the process of getting back into our 'normal' lives, we might be asking if the places we were frequenting pre-quarantine are safe to immediately return to. My wife and I have been asking ourselves the same question. No two people reading this are in the same situation in terms of health, age, co-morbidities, etc. so it's near impossible to make blanket statements to cover all contingencies. However, my staff and I have had two months to think, plan, and consult with medical professionals and industry experts to determine what the best practices are to reopen our facility. With great trust comes great responsibility, and I'd like to take a moment to share some of our guidelines with you.
We Were Socially Distancing Before It Was Cool
When we started this business ten years ago, our model has always been, "A personal training experience without the personal trainer price tag." We created an entire business model around limiting the number of people in our classes/sessions and providing a unique personalized experience that is affordable to many. In these difficult times, our model is very well-positioned to thrive. I think the demand for places like ours (as opposed to the big-box gyms) will increase. At least I hope so.
I would also like to remind everyone that the remote coaching sessions we've been offering for the past several months will not be going away any time soon. We have a number of folks who are not ready to return to live classes just yet. We are still here to support you using this valuable piece of technology.
If, however, you are considering the option of coming to our facility in person, I'd like to share with you some of the measures we have put into place for your health and safety.
1. All equipment and high-touch areas will be disinfected between ALL classes/sessions, so if you're early to your scheduled appointment, you may be asked to wait until we call you in. Under no circumstances will we allow more than 8 people in the gym at a time. This includes instructors. Our 1-hour classes will run approximately 55 minutes until further notice to allow for this process to take place.
2. The front door will be exclusively an entrance, and the back door will exclusively be an exit. This will prevent crossing paths between classes, and help us with social distancing guidelines.
3. When you come in, we will use an infrared thermometer to take your temperature. If your temperature is more than 100.4, you will not be admitted to class. This is a government requirement for all Phase 1 businesses. If you are showing any signs of illness, please don't come to class. My instructors have been told to send anyone home who appears ill. Unfortunately, during this unsettling time, "It's just allergies" isn't going to fly. Remember, if you are an asymptomatic carrier of the virus, and you're having allergy symptoms, you're not just sneezing/coughing up allergies. You're also spreading the virus. Please do not put me or any of my instructors in the uncomfortable situation of arguing with you about staying in class.
4. Tissue boxes have been moved to the bathrooms. Please do not move them. They have been relocated there to serve as a reminder that after you use one, you need to rewash your hands before returning to the gym floor.
5. Chalk buckets will be temporarily furloughed for the time being. If you are a chalk user, we will make you a personal chalk baggie. There is no charge for this. If you'd like to purchase an entire block of chalk, we have them for sale for $5. Another good option is to purchase liquid chalk. Most liquid chalk formulas use isopropyl alcohol, so it's basically hand sanitizer and chalk in one application.
6. Please bring as few personal belongings as possible. There will be small paper bags for your keys/wallet/etc when you enter. Please place those items in the bag then wash your hands. When you leave, please wash your hands again and take the entire bag with you. In other words, do not dig your stuff out of the bag until after you leave.
7. Please do not bring your phone into the gym unless you are tethering into a rower, or are an emergency responder. Let's be honest, our phones are gross. We hold them up to our faces, then touch them, then put them down in the gym. The cross-contamination risk here is off the charts.
8. We encourage you to cover your face during your workouts. At the time of this writing, it is not a government mandate (subject to change). We have boxes of disposable masks at the gym, so if you don't want to get yours all sweaty, you are welcome to use one of ours. Instructors will be required to wear masks.
9. Programming will be designed so that sharing equipment will be virtually unnecessary. All equipment will be disinfected after each use. For TGU's and other ground-based activity, a Perform Better mat will be required. We can't disinfect the entire floor between classes, so let's not put our faces or hands on it (at least not for a little while).
10. For barbell classes: I've thought a lot about this, and here's what I've come up with: Our first barbell class will be a deadlift and military press program. Half of the class will start with press, the other half with deads. Halfway through class, we will switch. This means no shared bars/weights. If you need a spot on the press we will use side spotters to maintain social distance.
I've leaned heavily on the advice of medical experts that seem to put positive outcomes and best practices ahead of opinions and politics to create these guidelines. The general consensus is that what we know about this virus is still in its infancy. This is the type of disease where a young/healthy individual can unintentionally injure someone by not being careful. I'm not interested in opening our facility, only to have it re-close shortly thereafter if an outbreak is traced back to us. "All publicity is good publicity" does not apply here. This isn't how I want to be recognized by the city of Tucson!
I am thankful that we live in a region that has not suffered greatly by this virus. I have friends who own facilities on the east coast and it will be much harder for them to re-open. I'm thankful that no one in our gym family has gotten the virus. I want to keep it that way. I still take my temperature every morning (even on days off), wear mask and gloves whenever I go out, and am hyper aware of how I feel at any time. I am asking my instructors to do the same.
If you have a question that wasn't answered here, please don't hesitate to reach out to me personally.
I'm looking forward to seeing you all again! Together we are #protocolstrong. In a few months, we will be #tenyearsstrong and I'm looking forward to celebrating with all of you!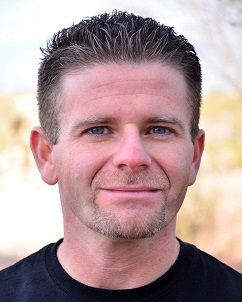 Jerry Trubman is a coach, clinician, author, blogger, and powerlifting state champion. With over two decades of lifting experience, he has devoted himself to seeking out better answers, and distilling them into practical programs that produce great results. Jerry has coached "Team Protocol" to 4 National Powerlifting Championships in the 100% Raw federation. He writes the internationally-read blog, "The Healthy Addiction" and lives in Tucson, Arizona with his wife Marie and dog Sadie. To subscribe to his blog, click here.