By: Jerry Trubman, Owner and Founder
Well… we blinked a few times and 2019 is now behind us. I suppose that old saying about aging is right: Life is like a roll of toilet paper… the closer you get to the end, the faster it goes.
We decided to take a little break from the blog in December. It seems like our inboxes get flooded with so much garbage during this time of year that I felt a little break was appropriate. As I say every January, we do not participate in the "New Year's rush" that most other gyms do. For us, it's just another day at the office. If someone is serious about fitness goals, they would have started by now. We've also prided ourselves in not flooding our facility every January for no good reason. This drives serious gym-goers nuts, so I don't dishonor our loyal students of strength with this dynamic. Of course, if you're interested in becoming 'one of those', we'd love to talk to you.
Since it is that wonderful time of year where many are making attempts to shed a few pounds and recommit to their fitness regimens, this seems like a good month to share a post like this. Maybe you are someone who doesn't typically read this blog, and stumbled across it in some way (thanks for reading!) and the headline piqued your curiosity. There were several blog posts and stories last year discussing this subject matter and I've been wanting to weigh in on this myself (pun intended). I figure this is a good time of year to share. Hope you find some of these tidbits helpful in your journey…
First thing's first, I think it's pretty hard to deny that the statement is true: I can't imagine anyone trying to argue with the idea that it must have been easier to be skinnier a few decades ago. One of the big news stories last year was the 50th anniversary of the Apollo 11 moon landing. The nightly news had a big piece on this historic event and as they took us on a trip down memory lane, there was one thing I couldn't help but notice when they showed the crowds of people watching… they were all fairly thin. The same shot of a random crowd of people gathered to see something today would look very different, wouldn't it?
So, why is this the case? Here are my thoughts…
Changes in the palatability of common foods – I've written about this before in prior posts. The reality is that most of today's common snack foods require us to consume more of them to become satiated. I told the story last year of my Sour Patch Kids incident when I was having a craving for them and decided to pick up a box. I was munching on them on the drive home and, low-and-behold, by the time I got home the box was empty. I looked at the box to discover I had just mindlessly ingested 370 calories and 92 grams of sugar. Ouch!
However, this wasn't the problem.
The problem was that when lunch time came a few hours later I was just as hungry and ate the same size lunch I would have normally eaten. The box of candy didn't even make a dent in my hunger. As a point of comparison, I would have had to eat about 6 apples to get the same number of calories and sugar. First off, who easts 6 apples? Better yet, who eats six apples casually on a ten-minute drive home from the store? And what would the consumption of those 6 apples do for my satiety? Well, about a week later I decided to give it a try. The results were quite obvious: I skipped lunch after my apple gorge.
Many highly palatable snack/processed foods are scientifically designed to make you want more of the them. Our desire for fat, sugar, and salt (or a festive combination of the three) is well known by the folks who produce these foods. Were they around back in the day? Sure. But not in the quantity and availability that they are now. Now-a-days you can't even check out of a Home Depot without various packages of cleverly disguised sugar being dangled in front of you.
Perhaps this year, instead of a crash diet, you take on a goal to allow yourself to eat as much 'real food' as you need to feel full, and see what kind of effect that has on your scale weight? If you are a big snacker, this may be an eye-opening experience.
Please help support our blog by shopping Amazon using the link below...

Changes in gut microbiome – This study from Harvard University found that one of the reasons it's harder to maintain the same bodyweight today as it was 20 to 30 years ago is that today… even with similar caloric intakes, our gut microbiome is very different. They list a number of reasons, but there are two big ones: First, significant increases of meat and dairy treated with hormones and antibiotics have a huge impact on the flora in our gut. Second, Americans are one of the few groups who don't have cultured foods as part of our regular diet.
Please don't misconstrue this as me advocating for a vegan diet. This is simply a statement of fact that we consume significantly more meat and dairy today than we used to, and this meat and dairy is produced in a very different way that may have a significant impact on how our body processes these foods. I made a new year's resolution a few years back to add one serving of cultured food to my daily eating. I can't honestly say I've noticed too much of a difference, but I certainly don't think it's doing any harm.
Prescription Med Use – American's use of prescription medication was up from 51% in 1999-2000 to 59% in 2011-2012 (link to the study here) That's a pretty big jump in a little over a decade. I tried to find some good data that could tell us what those numbers were before 1999, but unfortunately, I couldn't dig anything up. However, I think it's pretty safe to say the numbers were significantly lower. Anti-depressants are now taken by 1-in-6 Americans and those didn't even come on the scene until the late 80's.
The most common side effect of prescription drugs? You guessed it, weight gain.
Am I suggesting you stop taking your meds? Absolutely not! I do think it's wise, however, to have an ongoing discussion with your doc about what it would take to use as few as possible. If you're doc is big on the pill popping, maybe it's time for a new doc…
Please help support our blog by shopping Rogue using the link below...

Lifestyle At Home – I'll be the first to admit that, due to our schedules, my wife and I only eat together on date nights. I hope this will change some day because there's something nice about sitting down to a nice meal with no phones, devices, TVs, etc. and just enjoying one another's company. Michael Pollan had this to say…
"We eat one in every five meals in our car. One in four of us eat a fast food meal every day. US households spend roughly the same amount per week on fast food as groceries. Sixty years ago, the average dinner time was ninety minutes. Today is less than twelve minutes. The majority of US families report eating a single meal together less than five days a week. And even then our "dinners together" are mostly in front of the TV. No wonder the average parent spends only 38.5 minutes per week in meaningful conversation with their children. We are losing the table."
And this was from a book written in 2007. Do you suppose wireless devices have made these statistics any better?
Chick-Fil-A has something called the "Phone Coop Challenge" where they have a box on the table for the family to put their phones in to be able to enjoy a "distraction-free" dinner. After the meal, if you tell one of the employees that you completed the challenge and share your experience, they give you a free ice cream cone. You are also encouraged to take the box home and use it for family dinners. Regardless of your feelings about Chick-Fil-A, this is a pretty awesome stand to take for family time.
Maybe instead of another failed diet, this is the year to just take a more mindful approach to eating?
--
On subjects like this, I'm always curious about what you guys think. So, what say you? Why do you think people were leaner a few decades ago? Or, maybe you disagree on the whole premise all together. I'd love to hear your thoughts.
Until next time,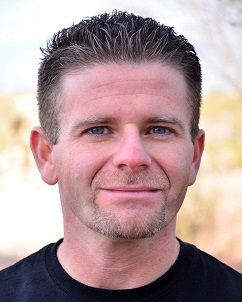 Jerry Trubman is a coach, clinician, author, blogger, and powerlifting state champion. With over two decades of lifting experience, he has devoted himself to seeking out better answers, and distilling them into practical programs that produce great results. Jerry has coached "Team Protocol" to 4 National Powerlifting Championships in the 100% Raw federation. He writes the internationally-read blog, "The Healthy Addiction" and lives in Tucson, Arizona with his wife Marie and dog Sadie. To subscribe to his blog, click here.