Get Into Your Best Shape With The Protocol! Our Personal Trainers Will Help You Reach Your Goals!
If you are reading this, it means that you have taken the first steps to moving better, becoming stronger, and recapturing the body you were made to have.

There are certainly much Personal Training and Group Training options out there. But just about all of them fall into one of two categories:
"Bodybuilder Strength" – This is the fitness methodology in which most gyms are rooted. Here's how to tell: When you walk in, you notice rows and rows of various machines and contraptions that are designed to strengthen one muscle/group at a time. This is the bodybuilding culture in a nutshell… strengthen the muscles individually to achieve that "toned" or "pumped" look.
In serious training circles, we call this, "Looks like Tarzan, plays like Jane."
we're not saying that this culture has no place in the fitness world; what I am saying is that standing in front of a mirror doing countless bicep curls, in my opinion, will not improve the quality of your life… or undo all the things that sitting in a chair all day does to your body. If the bodybuilding culture is something that resonates with you, and you got just a little excited thinking about those curls in front of the mirror, you can stop reading here.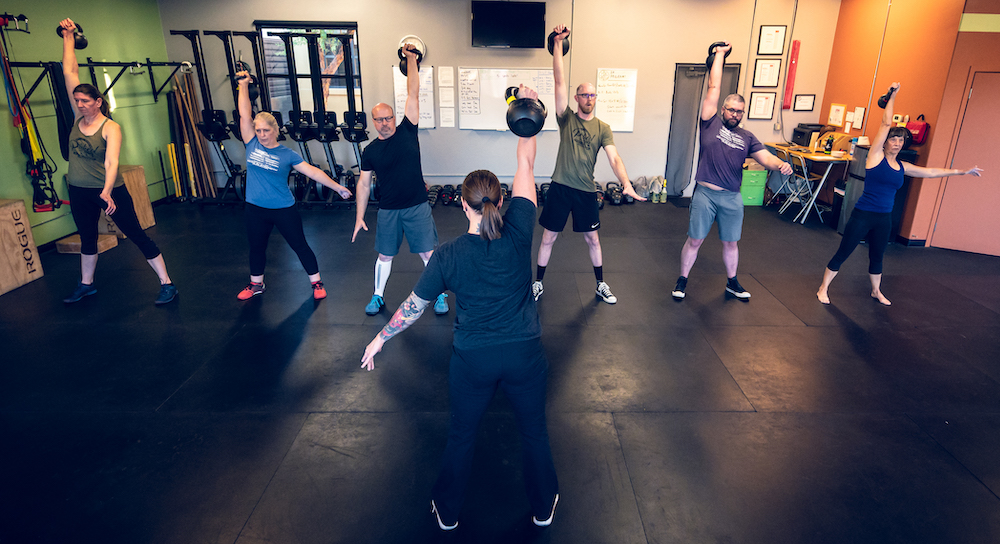 "Real-World Strength" – This is the type of strength that ages gracefully. This is the 50-year-old man who can work in the yard for hours without getting tired. This is the woman whose answer is, "no, thank you" when asked, "Would you like some help out to the car with all those groceries, ma'am?" This is the grandparent who can get down and up from the floor with the grandkids with ease, and maybe it's even the 35-year-old working professional who is, "too young to feel this old."
The Personal Training program to achieve real-world strength is very different from the one that is practiced in most facilities, and this is what we practice here.
If building 'real-world strength' is something that sounds like what you're after, We'd love to meet you.
Just because we are a small boutique-style facility here in Tucson doesn't mean we are expensive. Our training packages start at just $249 per month for a twice-weekly program. Much of what we do happens in small group settings of just 3-6 people, and everyone begins with private instruction to help prepare them for what we do… no awkward beginner phases here. You start your sessions with the tools you need to train like a pro.

We have two options to get started…
"The Starter Pack" 4 Personal Training Sessions – If you're serious about starting your journey, this is where it all begins! These 4 private one-hour sessions accomplish one of several things…
* Teach you how to move better and become stronger – You will learn time-tested training principles that the strongest and most capable humans have known for decades.
* You will get to see what we are all about! If it's not your cup of tea, no problem. We're not a big-box gym looking to sign up people who never show up (typical big-box gym usage rates are less than 10%, we have a 100% usage rate. In other words, EVERYONE who pays to come to our place actually uses it!). The folks who train here do so because they want to, not because they signed a contract.
* These Personal Training sessions serve as a great 'on-ramp'. Maybe it's been a while since you've done some physical activity. Killing you on the first session is not our style. We use the first 4 sessions to gradually ease you back into training.
We are offering these 4 sessions for just $299.00. Click the link below to sign up!
Click here to register for the starter pack!
A Initial Movement Assessment – Maybe you're not ready to dive in head first… In this session, our on-staff licensed Physical Therapist will walk you through a comprehensive movement assessment and give you a complete rundown of your strengths, as well as things to work on (click here for an example). This is not a quick-fix marketing gimmick, and it certainly isn't a 'free consultation' A.K.A. one-hour sales pitch. This is a professional assessment from a licensed Physical Therapist. You will walk away with specific details that you can begin applying right away, even if our facility is not the right place for you.
We are offering this session for just $95.00. Click the link below to sign up...
Click here for our Initial Movement Session/Evaluation!
If you have more questions about Personal Training or anything else we have to offer here in Tucson, please don't hesitate to use the "Request More Information" link to schedule a no-obligation phone call or in-person meeting. You may also enjoy our free e-book, "How To Pick A Great Coach." This brief, informative read will give you more information on how to pick a great trainer/facility (even if it's not ours!). Click Here to download.