By: Jerry Trubman, Owner and Founder
The inspiration for today's post came from an unsuspecting place… the toilet. Wait. Wait. I can explain…
For those who don't know, I'm a bit of a Jack-Of-All-Trades. I'm a licensed Realtor and although the fitness world keeps me pretty busy, my alter ego stays busy in the world of real estate. I've actually been doing real estate longer than I've been in the fitness business (it's my backup plan for when they successfully teach robots to coach people). Anyway, some of you may be too young to remember this, but not long ago toilets used to look quite different than they do today. They were round (instead of oval) and were usually pretty low to the ground. My suspicion is that as people got fatter and weaker, the demand for taller and physically larger toilets increased. They call them 'comfort height' and in the real estate world we would brag if one of our new or remodeled listings had 'elongated, comfort-height commodes'.
At this point, seeing one of those old toilets is pretty rare. However, they've done some research and it turns out that sitting up high on a toilet is an inferior way of going number 2, and they now make special retrofits that you put on the floor to lift up your legs when doing your business that puts your body into a friendlier position to evacuate. Click Here for a hilarious, (and educational), video on the subject. If you've never tried elevating your legs like this, I highly recommend it.

Ok, so that example was a bit light-hearted. I'd also like to share another 'comfort' example that was a little more disheartening. The story takes place as I was checking out of Costco a couple months back and was in line behind an older couple (70's or so). The husband was in a wheelchair and the wife was doing the work of handling their items, as well as handling him. Both were very overweight and had a tough time getting around.
Curiosity always gets into my head when I see situations like this, so I peek at the conveyor belt with their selected items. As you know, everything at Costco comes in jumbo size, so on their conveyer belt I saw large containers of pastries and snack food. Behind those items were large double packs of ibuprophen (daytime pain relief), Advil PM (nighttime pain relief), and antacids (post meal pain relief). There was something unsettling about seeing 'comfort foods' combined with what is basically a morning, daytime, and evening regimen of pain pills that create more 'comfort'.
In stark contrast, in my line of work I see people every day, that are in the same age cohort, who do the complete opposite. They get up every day to train hard, eat quality foods, take care of themselves, and avoid pain pills unless they are absolutely necessary (no need for Costco-sized bottles). Pictured below is Bud. He is turning 70 in a couple months. He runs, rows, lifts weights, swings kettlebells, and is in better shape than most men a fraction of his age...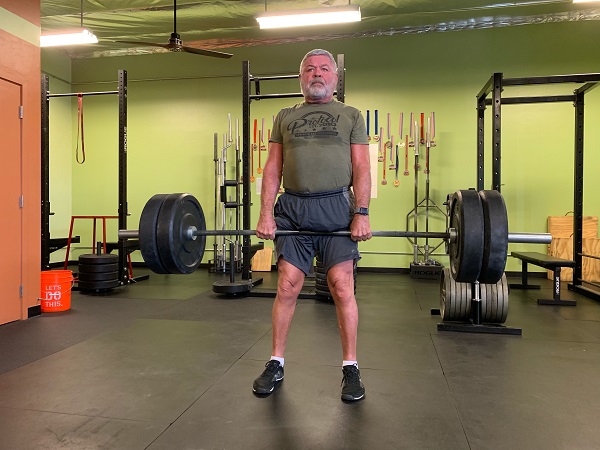 Now, before you start sending hate mail, I understand there are genetic components to how we age, and sometimes we find ourselves in health crises that are outside of our control. I get it. But as a coach, what I'm looking at here are patterns.
I still hold the firm belief that much of how we age is up to us, and the epiphany I had recently revolves around comfort and how we choose to create it. So, I ask… where does your comfort come from? As I mentioned in the beginning of this post, comfort can essentially come from two places: Something YOU do, or something done TO you.

I'm not saying this can't be both. I enjoy getting massages and going to the Chiropractor. These are both examples of having something done to you. However, much of our comfort should probably be created through our own efforts: Eating well, taking care of our bodies, working hard to provide a good life for ourselves and our families… making decisions that are difficult in the short-term to provide great outcomes for the long-term.
"Easy choices, hard life. Hard choices, easy life."
Jerzy Gregorek
The quote above is from an interview Jerzy did on the Tim Ferriss podcast. The interview is totally worth checking out and it really sums up the spirit of this post quite well.
I hope this post is something that gives you a perspective to chew on. For some, this is a message of hope… that all the hard work you are putting in now provides you with a return on your investment. For others, this may serve as a warning.
Until next time,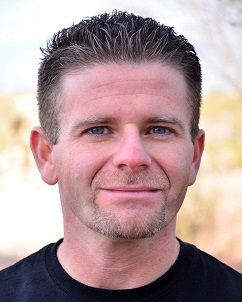 Jerry Trubman is a coach, clinician, author, blogger, and powerlifting state champion. With over two decades of lifting experience, he has devoted himself to seeking out better answers, and distilling them into practical programs that produce great results. Jerry has coached "Team Protocol" to 4 National Powerlifting Championships in the 100% Raw federation. He writes the internationally-read blog, "The Healthy Addiction" and lives in Tucson, Arizona with his wife Marie and dog Sadie. To subscribe to his blog, click here.