Today we have a guest post by our massage therapist Terry Hall. It may sound like a shameless plug for massage therapy service… that's because it is (I see no point in lying to you). Before you write it off, however, I'd like you to ponder something as you read it: I've heard it said before that there is no such thing as 'over-training', there is only 'under-recovering', and I couldn't agree more.
Earlier this month, I had the privilege of attending a two-day seminar by Pavel Tsatsouline on the subject of breathing and recovery called Second Wind. The name of Pavel's organization is 'Strong First', and the question he posed was, "If 'strong' comes first, what comes second?" His answer was, "relaxation."
The eastern philosophies have always understood the yin-yang balance between tension and relaxation. Us westerners? Not so much. We just go and go and until we get injured or sick. This isn't good. I've wanted to add massage therapy to our product offerings for several years now, but I also wanted to wait until we had the right person… someone who spoke our language… the language of strength and performance. Last October, we found her, and we're better for it. If your tension-relaxation ratio is horribly out of balance, and you haven't had Terry work on you yet, you probably should. There will be links at the bottom of this post to help you get started.
I'll let Terry take it from here…
What do we look for when we need a Massage? This can be based on what our needs are at the time. So, let's dig into the understanding. Say we are looking for relaxation. Why do we need to relax? I realize that may be a silly question as most of us need to relax, but we should know there may be different levels of 'relax'. We may be dealing with stressful jobs, deadlines, even personal stressors such as family, relationships, or even deeper issues. These stresses which can be felt day-to-day, and can cause anxiety, lack of sleep (or restless sleep), fatigue physically and mentally, leading to a lowered quality of life. We make poor decisions while under stress, such as bad eating habits, lack of the desire to exercise, even choices such as drinking alcohol or drugs. Depression falls under this as well. When we can no longer appreciate or enjoy simple pleasures in life.
How about relief from pain? The majority of us are 'hands forward' meaning when spend tremendous amounts of time with our hands in front of us. Working desk jobs where we are hunched over a keyboard, answering phones, looking awkwardly up at screens, sitting in a chair for long hours of the day, or working where we move in the same motion for hours on end. Pains develop in the neck, shoulders, low back, and more. Living in pain we can then refer to the above paragraph, where we become irritable, stressed, lose sleep, and even more pain.

When we leave work, we try to stay active by going to the gym and participating in active recreational activities, but without proper recovery, to our bodies this is just more of the same stressors. No matter the sport, there is always a great need for recovery. Massage can help fight soreness and fatigue in muscles, relief from minor strains/sprains/injuries, and even help to obtain better flexibility and healthier tissues.
Benefits:
Lower heart rate.
Reduce levels or insulin and cortisol.
Increases serotonin and dopamine.
Lower blood pressure.
Improve blood circulation.
Improve body functions.
Relaxes muscles.
Reduces pain.
Increases mobility, flexibility, and range of motion.
Improve sleep.
Reduces stress.
Improve posture.
Strengthen immune system.
These are just a few reasons massage benefits us. Believe me, I could go on forever on the subject!
So then, what do we look for when we need a massage? Do we just choose any place? Any therapist? Are we looking for the best deal? Cheaper the better? We should always keep in mind that, like many things in life, you usually get what you pay for. And for the inexperienced it's easy to settle for anyone. You should look for the therapist that meets your specific needs. One who can listen to you, understand and work well with you. Also take note of the establishment's business practices… how are they charging you? Are there added expenses? Some places charge extra for all the little things. Need deep tissue? There's an up-charge. Need heat or ice? There's an up-charge. Are you getting a full hour? Or really just fifty minutes of actual work?
A good therapist can be hard to find. When you do, KEEP THEM!
My experience/modalities:
Sports
Assisted Stretching
Neuromuscular (Such as Trigger Point Therapy/Myofascial, etc.)
Therapeutic and structural therapies
Essential Oil and aroma therapies
Swedish Relaxation
Hydrotherapy
Reflexology
Thai Massage
Chair
Included if needed (NO upcharges!):
Aroma therapies
Heat/Ice
Deep tissue
Cool therapy pain relief (Usually Biofreeze or similar)
In summary, your treatments should really feel like they undo all the stuff life does to you. If this sounds like something you'd like to experience, I'd love to meet you.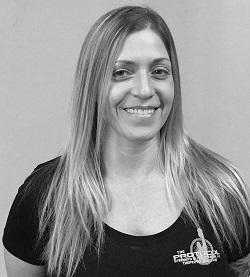 Terry Hall, Licensed Massage Therapist
Thank you so much, Terry! I've attached links below for her services, including an awesome Valentine's Day Special!
CLICK HERE to purchase a 60-minute session
CLICK HERE to purchase a 90-minute session
CLICK HERE for our Valentine's Day Special! Buy one massage at regular price, get a second one for your Valentine at 50% off!