"Go Hard" but Go Smart
Part of my lectures at workshops, certifications, and the Strength Matters Summit is the subject of programming for the #everydayathlete. We discuss the importance of designing programs where the first priority is, simply put, "Don't injure them." I've always felt that if this is the first thing on my mind when sitting down to write programming, I'll always be on the right track.
With that said, if one were to scour my system looking for inconsistencies and/or contradictions, they would probably find one: Competitive powerlifting. Every year Team Protocol competes in the 100% Raw American Challenge and we have won the Master's National Championship three years in a row. The very nature of competing basically means 'max effort', so it goes against one of my key programming principles which says that the everyday athlete should really never need to perform a single-rep max lift as a regular part of their training regimen.
So why do we do it? First and foremost, I don't believe that we train our bodies to do incredible things so we can tiptoe gently through life and lie down comfortably into our graves. Rather, we train our bodies to do incredible things so that, every once in a while, we can go and do something incredible. There is no way I can describe to you what it feels like to watch someone I've coached break a record and come to me on the verge of tears, thanking me for believing in them.
Although this may sound like a contradiction, I see it as complimentary. What do I mean by that? One of the most potent elements of building a champion is to keep them healthy, and the closer and closer one gets to the limit of their genetic potential, the smaller and smaller the margin of error becomes. So, this concept of "don't injure them" is now of exponential importance since the margin of error with some of my top-level athletes is razor thin.
The best lifters in the world truly max out typically twice per year; once at Nationals, and once at Worlds. If you are attempting max efforts every 30 days, and making those lifts, congratulations! You are a beginner. Come talk to me in 5-10 years…
I've heard it said that success leaves clues. I would add that failure leaves step-by-step detailed instructions. Towards the end of our training for last year's Nationals, one of my top lifters tore a bicep while deadlifting. He was out for the meet. This is not only terrible for him, his training, and his life (luckily, he doesn't have a physically laborious job), it's also bad for his competition goals… lifters with torn biceps don't do well at the meet... unless you count cheering from the sidelines as a competition goal. It has taken a year of very careful 'don't re-injury him' programming, and I'm happy to say that this year he is ready to take the platform again.
Our team is successful because we have many of the same faces showing up every year, and we are stronger each time. It's much harder to hit a moving target.
So, here we are again. I'm writing this with the Raw American Challenge two weeks away. I know I say this every year, but every year I mean it: I'm proud of my team. I'm proud of their accomplishments, their diligence, their commitment to their training, and, most importantly, their commitment to each other.
Go Team Protocol! May your weights be light, and your lights be white.
Until next time,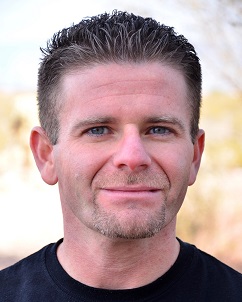 Jerry Trubman is a coach, clinician, author, and blogger. He is also the owner and founder of The Protocol Strength & Conditioning, a fitness facility and coaching program designed to help ordinary people move better and become stronger. He has devoted himself to seeking out better answers, and distilling them into practical programs that produce great results. He provides workshops, clinics, and kettlebell certifications through the UK-based company Strength Matters, and writes the internationally-read blog, 'The Healthy Addiction'. He lives in Tucson, Arizona USA with his wife, Marie and dog, Sadie.