By: Jerry Trubman, Owner and Founder
Today's post comes from a YouTube channel that I follow (click here to watch the video). His name is Jaspreet Singh and his channel is called the Minority Mindset. He talks mostly about finance, but occasionally goes on various tangents. In the video, he speaks of our 'fast food culture' of instant gratification. Oddly enough, the health and wellness world also suffers from 'fast food culture', so I thought I'd take a moment to chime in. Enjoy!
Symptoms vs Root Cause
Don't get me wrong, modern health care has done some wonderful things for us… especially in the area of emergency medicine. When our ancient ancestors suffered a major injury, that was often the end for them. Not us! We can often receive emergency treatment and be back on our feet in no time. Conversely, the way we treat non-emergency medical problems often follows our fast-food culture...
We treat symptoms, not causes.
One of the examples Jaspreet uses that really resonated with me was the example of the traffic ticket. In most states, when one gets a ticket, they have the option to either pay the ticket (and accumulate points on their driving record) or attend a defensive driving class. If the defensive driving class is chosen, not only is it much cheaper than the ticket, but it also removes the points from the driving record (too many points, of course, means suspension of driver's license). Is it a pain to attend a half-day course? Sure. But learning skills for a fairly dangerous activity that almost all of us participate in (often without realizing just how dangerous it is) on a daily basis can be a good thing.
Let's say we did that with other things? For example, if you were to overdraft your bank account, the bank may offer the ability to either pay the overdraft fee, OR attend a class on financial literacy and have the fee waived. Would some choose to pay the fee and move on with life? Sure. But for the folks who were never taught the basics of operating a checking account (most of us), this can be a life changing class.
Please help support our blog by shopping Amazon using the link below...

Pills vs Plans
Let's use the driver's ed course example and apply it to our health and well-being. What if our doctors always gave us the option to attack our root causes as opposed to symptoms? Say an overweight person gets some not-so-good bloodwork, and the doc says the them, "Ok, you've got high blood pressure and are borderline diabetic. I strongly recommend you start taking the following medications. However, we also offer a plan where we set you up with nutritionist and personal trainer for 6 months, then schedule another visit afterwards to see how you did. Your insurance will pay for it, and if you start seeing results, not only is it possible that you'll come off these meds, but we'll also lower your health insurance premiums because you pose less of a risk to the insurance company?
Yes, I know… I'm dreaming here. But hey! That's what I do.
Please help support our blog by shopping Rogue using the link below...

Consumers Want The Immediate Fix
The most common argument to this idea is that consumers are always looking for a quick fix, and would never go for treating the symptoms. In our fast-food culture, this may be true… for some. But the fact is, we also tend to be easily incentivized to make better choices when given the option to do so. For me, maintaining a certain degree of general health allows me to pretty much avoid the health care system altogether. Some folks need more incentive than that, but if Krispy Kreme can get people to get a COVID vaccination for a free donut, doesn't that prove the incentive theory works for, at least, some of the people? If the health care system started incentivizing healthier options system-wide, wouldn't you agree that there would be at least a few takers?
Fast Food Culture – Choose Your 'Hard'
Taking care of yourself is hard. Living an unhealthy life is hard too. There is an exchange in everything we do. One of the most ineffective ways of being is to go around thinking everything/everyone is out to get you. The truth is, in many situations, we get to choose. Choose wisely.
Until next time,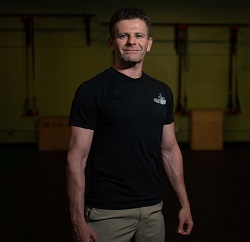 Jerry Trubman is a coach, clinician, author, blogger, and powerlifting state champion. With over two decades of lifting experience, he has devoted himself to seeking out better answers, and distilling them into practical programs that produce great results. Jerry has coached "Team Protocol" to 4 National Powerlifting Championships in the 100% Raw federation. He writes the internationally-read blog, "The Healthy Addiction" and lives in Tucson, Arizona with his wife, Marie, and dog, Asher. To subscribe to his blog, click here.