2020 started off with my wife and I getting food poisoning on New Year's Eve, and finished with me spending three days laid up with a tweaked lower back (happens to the best of us. Luckily, I was able to get on the other side of it fairly quickly and am now back in action).
Everything in between wasn't much better: My beloved dog died, I had a painful surgery on the top of my head (#cancersucks), business was shut down twice, and even when it was open, operations were anything but normal.
I've been known as a 'glass is half full' guy, but last year was tough for that. I feel like I've aged 10 years in the last 12 months. We usually preach a message about thriving, not just surviving. But boy oh boy, this has certainly been the year of survival. The Protocol was down 14% in year-over-year revenue. This was the first year in our 10-year history that we didn't grow.
Most people whom I've shared that with replied, "Wow. Only 14%? You should consider yourself lucky!" I suppose that makes me feel a little better, but the retail store manager that still lives in me is waiting for my boss to come in here and give me good 'talking to' about that. "How did you blow a ten-year winning streak, Trubman?!?!"
Please help support our blog by shopping Amazon using the link below...

On a brighter note, The Protocol Massage was up over 100%! 2020 was the year our LMT Terry Hall came on full time. Now-a-days, she's about as busy as she can possibly be; I've heard people complain about having to wait over a month to get an appointment with her. Although this didn't quite make up for the entire loss on my side of the building, it certainly helped.
Some of the things I've learned this year have been shared in previous posts. Most of them revolved around being prepared for anything life throws at you. Mark Manson compared 2020 to altitude training: Athletes will often train at higher elevations so when they return to lower altitudes, if feels like weight has been taken off of them. 2020 has been like altitude training for gym owners (and many other businesses). If we somehow survived this high-altitude regimen, it will feel like we have the wind behind us again when things return to sea level.
Despite this madness, I've tried hard to remain grateful. If you're really bummed out about 2020, I recommend starting 2021 by journaling all the things you're grateful for. This sounds totally cheesy… to anyone who's never done it. For anyone who has, it's awesome.
Some of the things I'm grateful for..
Staying healthy is certainly the first thing that comes to mind. Although I'm not in a 'high-risk' category, I'm still pretty sure getting COVID would have not been fun.
My spouse and I didn't kill each other when quarantined. I liked that being stuck together more than normal didn't drive us apart (unfortunately I can't say the same for some of my friends).
The loyal students who stuck with us through this year, and the new ones who were brave enough to join us in 2020.
My real estate business boomed (if someone can please explain this one, I'm all ears).
Learning to use technology to connect with people virtually. This has allowed us to reach more people with our message of strength and movement.
And, of course I'm beyond grateful to Terry Hall and The Protocol Massage.
I'll be honest: I'm still not a fan of Zoom, I don't like the masks, I hate not shaking hands and hugging people, and the obsessive cleaning makes me feel neurotic.
I hate all these things… but I do them anyway.
No, not because of obedience, or because I'm a sheeple. We do these things because, at this moment, it's the right thing to do.
Please help support our blog by shopping Rogue using the link below...

I'm an entrepreneur… by definition I'm a rule breaker. Dropping a bunch of new rules on a rule breaker is a recipe for disaster. This may be the reason why the loudest voices in the anti-lockdown movement are small business owners (I bet the bigger companies would've been louder, but no one forced them to shut down so I guess we'll never know).
The whole reason I started The Protocol was that I hated almost everything about the conventional fitness establishment. What I wanted didn't exist, so instead of complaining, I went out and created it. It is my hope that in 2021 people will have a renewed sense of value in what smaller facilities like ours provide. Not just in smaller classes and social distancing, but in better coaching and producing better results for people.
I suppose by this summer things will start to look more normal (I hope), and I'm feeling fairly optimistic about 2021. When you're at the bottom, there's nowhere to go but up!
To my loyal students, staff, and readers of this blog… thank you for being with us during this unusual time. Here's to 2021!
Until next time,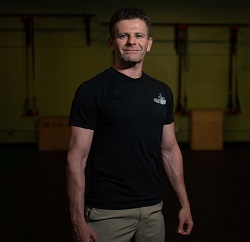 Jerry Trubman is a coach, clinician, author, blogger, and powerlifting state champion. With over two decades of lifting experience, he has devoted himself to seeking out better answers, and distilling them into practical programs that produce great results. Jerry has coached "Team Protocol" to 4 National Powerlifting Championships in the 100% Raw federation. He writes the internationally-read blog, "The Healthy Addiction" and lives in Tucson, Arizona with his wife, Marie. To subscribe to his blog, click here.