By: Jerry Trubman, Owner and Founder
When this year began, I was feeling pretty optimistic… we were cruising into our tenth year in business and everything was looking awesome. I was getting an early start thinking about what kind of party I wanted to throw in August for our big 10-year anniversary. Then COVID was like, "Hold my beer…"
Many businesses don't make it to year five, and of the ones that do, an even smaller number make ten. My optimism waned quickly as the drama of 2020 began to unfold.
For a while I was wondering if we'd even make it.
March was a scary month. April was even scarier. We did what every other business did: we pivoted. We gave out most of our equipment to existing clients and moved all training to Zoom.
The level of support from our client base was nothing short of spectacular. I was running with my head down for most of that time, but as I look back now, I'm in awe of the support that we received. Rent/utilities got paid, and no instructor missed a paycheck.
I'll admit, I had some help. I won't name names, but if you're reading this you know who you are. I had former clients that haven't trained at our facility in years offering to pay for a month of training to keep us afloat. Even our landlord went above and beyond. It was pretty amazing.
Now that we are open and things are more-or-less back to normal (whatever that means anymore), I'm still grateful that I get to earn a living doing what I love. And I'm beyond grateful that our ten-year anniversary came and we were still alive to celebrate (without the celebration part, of course).
Unfortunately, some colleagues were not as fortunate. Several gyms closed, with no hopes of reopening again. It's been my observation that many of these are big-box gyms that were either too slow to pivot, or just had no desire to actually help people.
I'm not crying for these gyms.
They had an entire business model that was built around sucking a monthly payment out of your bank account, and hope that you never actually use your membership. I don't believe in karma but…
For those that bent over backwards to serve their clients, they seemed to do ok.
Now more than ever, I hope we are living in a time where people truly see the value of our facility (and places like ours): Small, clean, uncrowded, and attentive. I sincerely believe that almost anyone who takes getting/staying in shape seriously can afford to train here.
I'm not going to lie, we've lost some folks this year (not to COVID thankfully, they just stopped training here). And we have more spots available in personal training sessions and small group classes than I'd like to see. But all-in-all I'm grateful that we are still here, still kicking, and still getting stronger!
If you're interested in learning more about what we do, please reach out.
Thank you again, Tucson, for ten great years! We are looking forward to serving you for many more.
Until next time,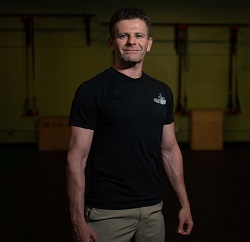 Jerry Trubman is a coach, clinician, author, blogger, and powerlifting state champion. With over two decades of lifting experience, he has devoted himself to seeking out better answers, and distilling them into practical programs that produce great results. Jerry has coached "Team Protocol" to 4 National Powerlifting Championships in the 100% Raw federation. He writes the internationally-read blog, "The Healthy Addiction" and lives in Tucson, Arizona with his wife, Marie. To subscribe to his blog, click here.