By: Jerry Trubman, Owner and Founder
I'm writing this post while on "vacation." I use quotes because pretty much anywhere you travel, you basically sit around and do the same stuff you would be doing at home. Because of this, my wife and dog decided to get out of the heat and head up to the mountains. We've been here for almost a week and there is something just awesome about getting away to the cool trees, staying in a cabin, and doing very little for a week.
On our way out of town, we decided we were going to fast this entire week. No, not the food type of fasting (too many good restaurants up here). Instead, we were going to have a one-week media fast: No news, no media, and NO social media. NONE. We spent most our time reading, puzzling, hiking, exercising (kettlebells are a great replacement to gyms being closed), and just enjoying one another's company.
It was wonderful.
We left on a Saturday and I'm writing this on a Wednesday. I have no idea what is happening in the world, I have no idea what any of my social media feeds look like, and I DON'T CARE. I've been limiting myself to checking email for 30 minutes once in the morning to stay caught up on work stuff, but that was it. Cell phone reception sucks up here so I kept my phone off for most of the weekend. Marie and I just hung out, had great conversations over meals in the cabin, and genuinely reconnected.
We're both current events junkies and have been for quite some time. It's like our reality TV; we get to watch the political zoo happen from the comfort of our quiet little lives. The trouble with this current political climate is that now this zoo is now an all-consuming fire that occupies every aspect of our being. It's in every conversation we have… we don't get to watch it from the sidelines anymore. Every day when we get up and walk out of our homes, we are reminded that things are anything but 'normal'. The simplest things are now political statements.
I can't recommend doing this fast enough. The only regret I have is not doing it longer.
If this is something you've done, or plan on trying, please reach out to me and let me know it goes.
Until next time,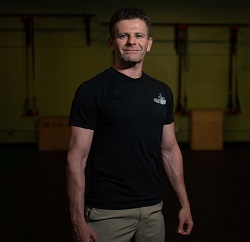 Jerry Trubman is a coach, clinician, author, blogger, and powerlifting state champion. With over two decades of lifting experience, he has devoted himself to seeking out better answers, and distilling them into practical programs that produce great results. Jerry has coached "Team Protocol" to 4 National Powerlifting Championships in the 100% Raw federation. He writes the internationally-read blog, "The Healthy Addiction" and lives in Tucson, Arizona with his wife, Marie and dog, Sadie. To subscribe to his blog, click here.